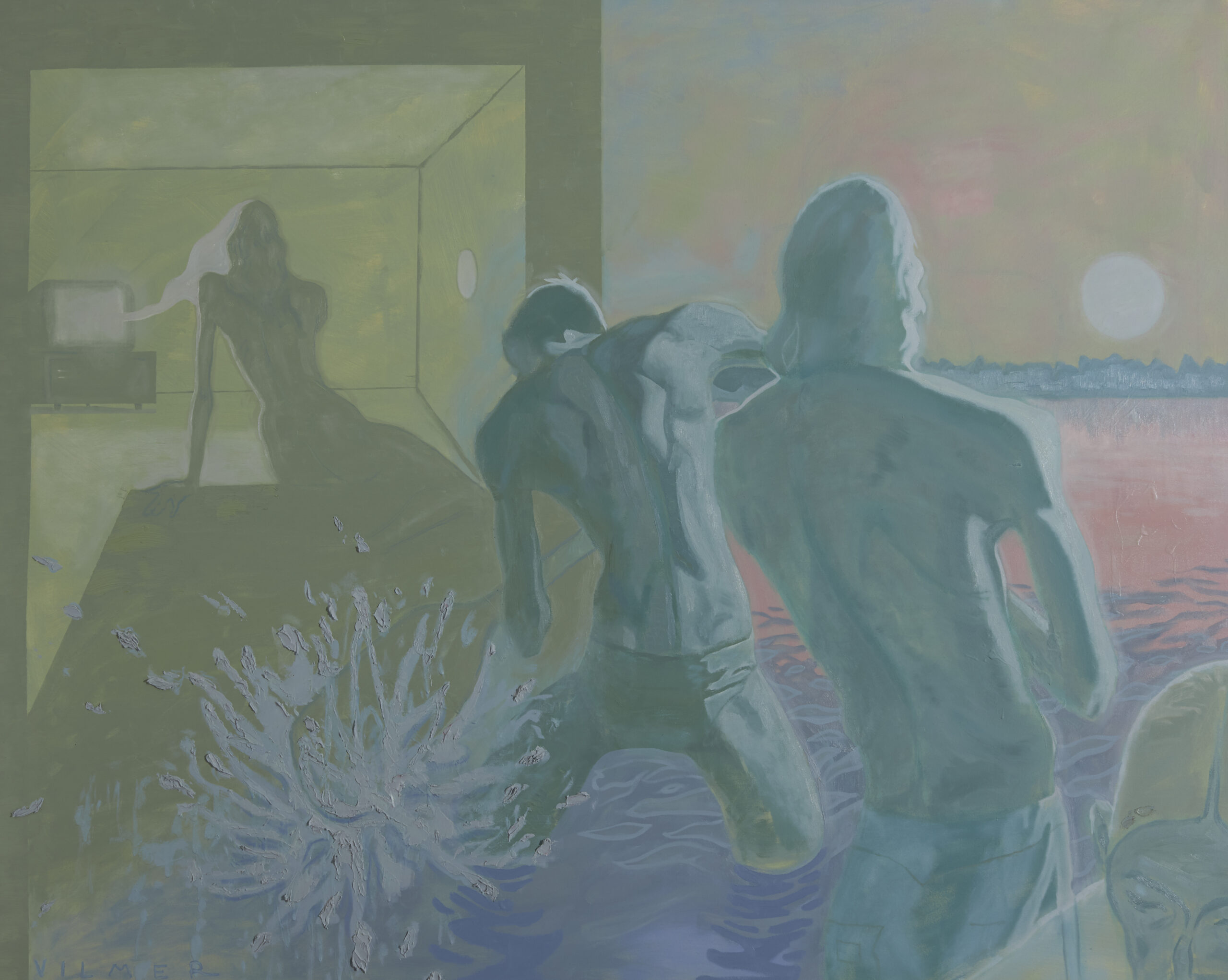 In Mind Your Absence, three young artists explore the subject of letting go, daring to do it differently and putting up a fight. The exhibition explores those barriers that we sometimes create, when we try to get closer, whether they be sexual, emotional, or today even media driven.
Because in a time of high paced and all-encompassing input, whether through mass media, popular culture, or advertising, being present no longer necessarily means being attentive or available. And despite being more connected than ever, the fear of losing our con-nection with time and space, the people around us or ourselves, is still prevalent today. In this exhibition, we all take the main stage with both our presence and absence.
For the first time in Denmark, Arden Asbæk Gallery presents Dutch painter Sam Andrea. The young artist's work contains both violence and romanticism, melancholia, and tense drama, and in that sense, Andrea explores our uncanny, self-destructive side. His works and their depiction of our most primal instincts are both frightening and exciting and stand as one big f*ck you to all that is staged or polished, gentrified and domesticated.
Danish visual artist Ditte Johanne Krogh Bertelsen occupies the floor with three old tv-screens. In her video works, Bertelsen explores and occupies the physical space on an abandoned building site, while also exploring what lies beneath the surface. Bertelsen works with the translation of physical sensations and inner mental states using her own body in various settings. The composition of the screens contributes to the narrative of the work, making both the creation and presentation an intuitive process.
Alongside, Bertelsen and Andrea, Vilmer Engelbrecht Schultz presents his anachronistic paintings, which borrow their form and styles from various parts of both art history and mythology, while also containing autobio-graphical elements. In his work, time and space dissolves, creating visual tales that are both universal and personal, recognizable and never before seen, through archetypical themes and characters, whether they be monsters or unrequited love.
Sam Andrea (f. 1991) is a Dutch visual artist. Andrea graduated from The Royal Academy of Arts in The Hague in 2018, where he was nominated for the Piket Art Prize and Jong Talent 2020. His work explores human nature as well as our destructive, sexual, animalistic behavior and why we are driven towards it. Sam Andrea is represented at Gallery Vriend Van Bavink in Amsterdam.
Ditte Johanne Krogh Bertelsen (b. 1992) is a Copenhagen based video and performance artist. Bertelsen is currently stud-ying at The Royal Academy of Fine Arts, Copenhagen. Her work focuses on the body and how it can be used to explore physical spaces as well as expressing inner states, while exploring how methods from theater can be incorporated into her practice as a visual artist. Bertelsen won the KP Prize 2020 from The Artists' Easter Exhibition at Kunsthal Aarhus, and in 2021, she was part of the exhibition Nikolaj – Københavns Kunsthal 40 Years at Nikolaj Kunsthal.
Vilmer Engelbrecht Schultz (b. 2000) is an emerging visual artist, born in Copenhagen. At an early age he started drawing restlessly. With both parents being creatives, this was a natural way of expression and learning. During his school years, Vilmer was introduced to the fundamentals of painting and drawing, and since graduating he has worked full time with his painting. In 2021, Vilmer Engelbrecht Schultz was accepted to Bergen Academy of Fine Arts, where he now lives and works. Mind your Absence is Vilmer's first exhibition